We can relate to this mom's story all to well.
A Texas mom Rachael Pavlik posted the saga of the poster board on her Facebook page, under the heading "Parenting In A Nutshell."
Pavlik's daughter, 11-year-old Camille, had waited until 9 p.m. the previous night to tell her she needed the poster board for an art project the next day. (Which she'd known about for "a damn week," Pavlik told HuffPost.)
After having to try two stores, Pavlik found the poster board and averted the crisis. The next day, after getting her daughter off to school on the bus, she was feeling pretty pleased with her skills as a parent.
"I'm so glad she got her poster board. Whew. Crisis averted.
I'm winning at this mom thing 
Yay me. Hero. I'm the best. 
I'm going to go on a walk today 
Beautiful day feeling good. Stretch. I'm walking. 
Turn the corner where the bus stop is.. 
Bus came. Kids are gone 
Everyone gone 
Except this 
This. HER G@#%!?#% POSTER BOARD"
Pavlik said she retrieved the poster board and took it home. When Camille sent her a frantic text from the bus, however, she took the tough love approach and simply texted back, "Oh really?? That's a shame."
"Hell no was I going to bring it to her at school," Pavlik said. "I call this a 'teachable moment.' My kids hate my teachable moments."
She added, "There is quite a debate on my page now about whether I should have brought the poster board to school for her. I didn't bring her the board because I've bailed her out in the past. Does that make me a mean mom? Maybe. Don't care."
But don't worry, Camille was reunited with her beloved poster board that night.
RACHAEL PAVLIK
Pavlik shared this photo with the caption "Reunited and it feels so … good?"
And remembered to take it on the bus the next day.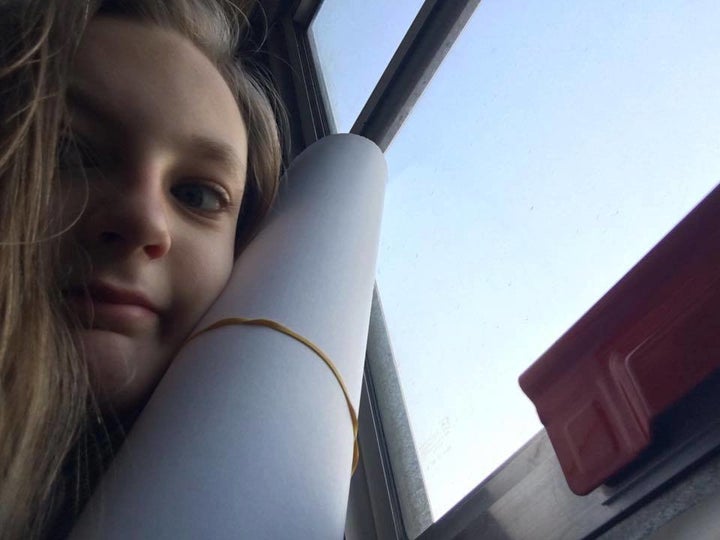 RACHAEL PAVLIK
Luckily, the poster board made it to school the next day.
The saga of the forgotten poster board has received over 17,000 reactions since Tuesday, and commenters are gleefully sharing their poster board-related parenting gripes.
Pavlik said she often shares the humorous parts of parenting: "There is so much awful sh*t happening now that we gotta laugh or we'll cry."
Comments